Creative Ecology
Project Launches
On May 20, surrounded by the beauty of the Baylands Nature Preserve, the Palo Alto Art Center and the Palo Alto Junior Museum & Zoo launched Creative Ecology: Exploring Our Environment with Art, Science, and the Community. Funded by a grant from the Institute of Museum and Library Services, Creative Ecology is an innovative art and science residency program promoting appreciation of the natural world through scientific inquiry and the creative process, engaging artists, art and science educators, and the larger community. This 18-month project, beginning in June, will feature four artists who explore the natural world in their artwork. For more details about the project, and how you can participate, watch for our June e-newsletter.
Become an Occasional Office Helper
Want to volunteer at the Art Center on your own schedule? Become an Occasional Office Helper by assisting with administrative tasks as needed! Staff will alert the volunteers listed on the Office Helper Roster when a new project is available. Many projects can be completed in small groups or even taken home. Occasional Office Helpers should be organized, comfortable with repetitive tasks, and enjoy quieter work. If you are interested in this opportunity, contact Director of Volunteer and Intern Engagement Emily Lacroix at Emily.lacroix@cityofpaloalto.org.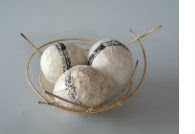 Two Papermaking Workshops in June
Hand Papermaking workshop participants will learn to make their own traditional handmade paper with Abaca fiber (Manila hemp). In the Casting Paper Sculpture workshop, participants will cast handmade paper to create a lovely small vessel, sphere or box that can be embellished with natural materials, paint, ink, kakishibu, thread, wire and decorative paper. Casting paper is a green art form and it's one of the simplest techniques to learn. These two one-day workshops are designed to be taken either together or individually. Register here for Hand Papermaking and here for Casting Paper Sculpture.
Last Chance to see
Cultural Kaleidoscope Exhibition
There is still time to enjoy our Cultural Kaleidoscope exhibition, which closes this

Sunday, May 31

. Cultural Kaleidoscope is an award-winning artists-in-the-schools program that links the neighboring and diverse communities of Palo Alto, East Palo Alto and Menlo Park, building bridges through the arts. Stop by the Art Center this week to experience this vibrant and creative exhibition.
The Palo Alto Art Center is your place to discover art.
See, make, and be inspired
because everyone is an artist.
Palo Alto Art Center
1313 Newell Rd. Palo Alto, CA 94303
Tuesday

-

Saturday

10 a.m. - 5 p.m.
Thursday

10 a.m. - 9 p.m.

;

Sunday

1 - 5 p.m.

Closed

Monday
The Palo Alto Art Center, Division of Arts and Sciences, City of Palo Alto is funded in part by grants from
Silicon Valley Creates and the Palo Alto Art Center Foundation. The Palo Alto Art Center Foundation gratefully

acknowledges support from the David and Lucile Packard Foundation, The William and Flora Hewlett Foundation,

Yellow Chair Foundation, private donations, and members.