Youth Creativity Celebrated
More than 300 people gathered on May 6 to celebrate the vibrancy of youth creativity at the opening reception for our Youth Art and Cultural Kaleidoscope exhibitions. Parents, students, teachers and artists from Palo Alto, East Palo Alto and East Menlo Park enjoyed the more than 900 artworks created by students, grades K-12, and celebrated the creativity of youth. Not able to join us on May 6? Check out the Flickr album to see what you missed and be sure to visit the Art Center this month to experience these inspirational exhibitions for yourself. Youth Art is on view

May 2-24

, and Cultural Kaleidoscope is on view

May 2-31

.
Japanese Woodblock Printing
This four-week adult studio workshop, beginning

May 30

, offers students the opportunity to create multi-color fine-art print editions using woodcut printmaking. A combination of Japanese and western approaches will be used that are suitable to practice in the studio or home environment. Techniques include: transferring drawings to woodblocks, carving woodblocks using knives and gouges, printing with watercolor pigment using traditional printing brushes, and registering blocks to print multi-color editions by hand. Classes will consist of group demos, one-on-one instruction, critiques and a themed group portfolio. All levels welcome!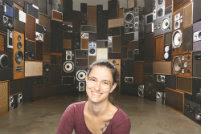 A Recent Exhibiting Artist Reflects
We asked Kate Lee Short to talk about her experience presenting her work in our recent Hear This! exhibition. Kate shared with us that she felt rewarded by visitor reactions and feedback about her work, Oculus (the 12-foot-high installation of speakers). For the artist, the Art Center provided a supportive environment in which to work and gave her a stage to think about how her work could be approachable to many audiences. Get the full story here.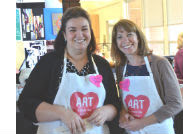 Positions Available at the Art Center
Interested in working at the Palo Alto Art Center?
We are currently seeking a Children's Fine Art Program
Coordinator
. For additional information and to apply, go to the
City of Palo Alto web site
. We are also
looking for contract art educators with a passion for teaching children. If you have experience teaching digital art, jewelry, or sculpture to children, please email your resume to jennifer.wei@cityofpaloalto.org and join an inspired group of educators serving thousands of children every year. We are now hiring for our upcoming summer camps happening in June, July, and August.
The Palo Alto Art Center is your place to discover art.
See, make, and be inspired
because everyone is an artist.
Palo Alto Art Center
1313 Newell Rd. Palo Alto, CA 94303
Tuesday

-

Saturday

10 a.m. - 5 p.m.
Thursday

10 a.m. - 9 p.m.

;

Sunday

1 - 5 p.m.

Closed

Monday
The Palo Alto Art Center, Division of Arts and Sciences, City of Palo Alto is funded in part by grants from
Silicon Valley Creates and the Palo Alto Art Center Foundation. The Palo Alto Art Center Foundation gratefully

acknowledges support from the David and Lucile Packard Foundation, The William and Flora Hewlett Foundation,

Yellow Chair Foundation, private donations, and members.