Lessons from Georgia O'Keeffe's Art and Life
Learn about Georgia O'Keeffe's art and life from her former weekend companion, Anna Koster (pictured) in a fun, one-day workshop. Create artwork inspired by O'Keeffe's favorite subjects and artistic philosophy. For more information and to register, visit our online registration site
here
.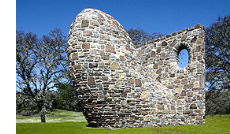 Join us for Oliver Ranch Tour
Only 9 spaces left! Don't miss out on the Palo Alto Art Center Foundation's private tour of Oliver Ranch in Sonoma County on

Saturday, May 9

. This is your opportunity to view 18 remarkable site-specific art installations by well-known artists such as Andy Goldsworthy, Ann Hamilton and Richard Serra. Cost is $125 Foundation members; $175 non-members. Breakfast, coffee, lunch and snacks are included. We expect this event will sell out, so sign up now!
STYLE 2015 Champagne
Reception and Pre-Sale
Upper-level Palo Alto Art Center Foundation members (Advocate, Benefactor and Circle) are invited to attend the exclusive champagne reception and presale on

Saturday, April 25 at 9 a.m.

for STYLE 2015, a two-day show and sale of independent fashion, jewelry, textile, and accessory designers. Held at the Palo Alto Medical Foundation (PAMF) Mountain View Center, STYLE 2015 benefits the PAMF Women's Cancer Survivorship program. If you are interested in attending, please RSVP to Diane Master at diane.master@gmail.com.
Hatch Pack: A Monthly Art Discussion Group
Who gets to decide what art means? We all do! Stop by Studio U-7 at the Cubberley Community Center this

Wednesday, April 22 at 7:30 p.m.

to participate in the new Hatch Pack monthly art discussion group. Free and open to the public, Hatch Pack is led by former painting professor, current Art Center instructor, and Cubberley Artist Studio Program artist Christine Gray. Bring your own perspective and join the discussion!
The Palo Alto Art Center is your place to discover art.
See, make, and be inspired
because everyone is an artist.
Palo Alto Art Center
1313 Newell Rd. Palo Alto, CA 94303
Tuesday

-

Saturday

10 a.m. - 5 p.m.
Thursday

10 a.m. - 9 p.m.

;

Sunday

1 - 5 p.m.

Closed

Monday
The Palo Alto Art Center, Division of Arts and Sciences, City of Palo Alto is funded in part by grants from
Silicon Valley Creates and the Palo Alto Art Center Foundation. The Palo Alto Art Center Foundation gratefully

acknowledges support from the David and Lucile Packard Foundation, The William and Flora Hewlett Foundation,

Yellow Chair Foundation, private donations, and members.