Lisa Alonzo
: Vanilla Scented Sovereignty
March 27 - April 26, 2014
Please join us for an Opening Reception with the Artist
Thursday, March 27, 2014 from 6 to 8 p.

m.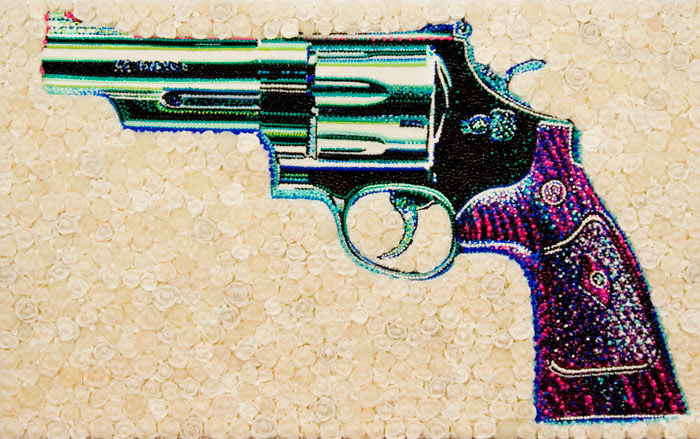 The Gun in Roses | acrylic and molding paste piped on panel | 15 x 24
inches
Claire Oliver Gallery is proud to announce Vanilla Scented Sovereignty, the premier solo exhibition with the gallery for Lisa Alonzo.
In Alonzo's candy colored confections, heavy with thick
frosting, shiny glazes and obsessive decoration, the
destructive nature of the object is subverted in its seductive presentation. T
he Artist's unique visual language
juxtaposes
desire, enticement, and abundance through her medium
with a more threatening side of contemporary culture
through her subject matter.
The Canned Corn #3, The Canned Corn #2, The Canned Cancer #1
acrylic and molding paste piped on panel | each 14 x 11
inches
In Vanilla Scented Sovereignty, the Artist explores how our initial acquaintance with an object or symbol can alter it's perceived meaning. Using imagery sourced strictly from mass media, Alonzo aims to explore the relationship of these images, common in pop culture, and the way they are consumed within our society. Take for example the line between fact and supposition that is easily blurred and manipulated by an all encompassing, ever present mass media driven society. 24 hour news cycles must be filled; beautiful and well-coiffed pitchmen soft peddle serious information and misdirect with gossip and rumor
.
The Neighborhood Watch - Grape | acrylic and molding paste piped on panel | 48 x 60
inches
For more information on the Gallery and upcoming events please
contact: